The LEVO C3 Wheelchair Features the Best of Power Standing Technology
---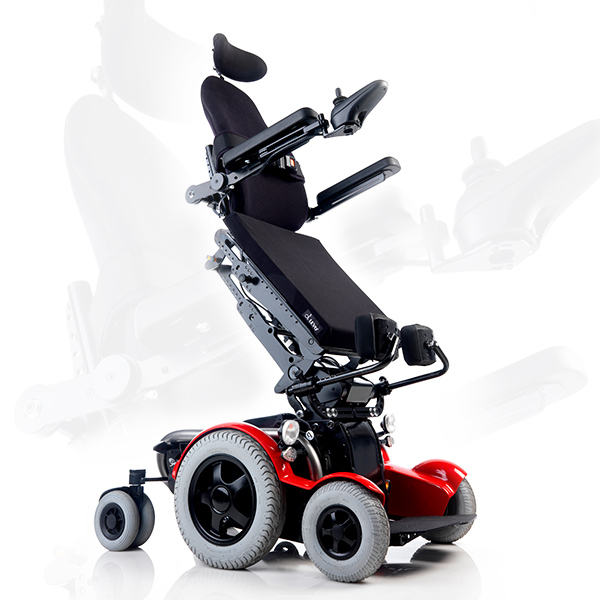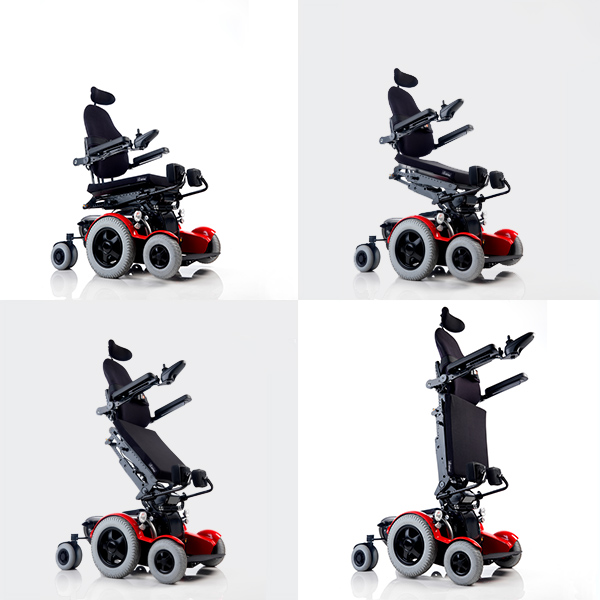 ---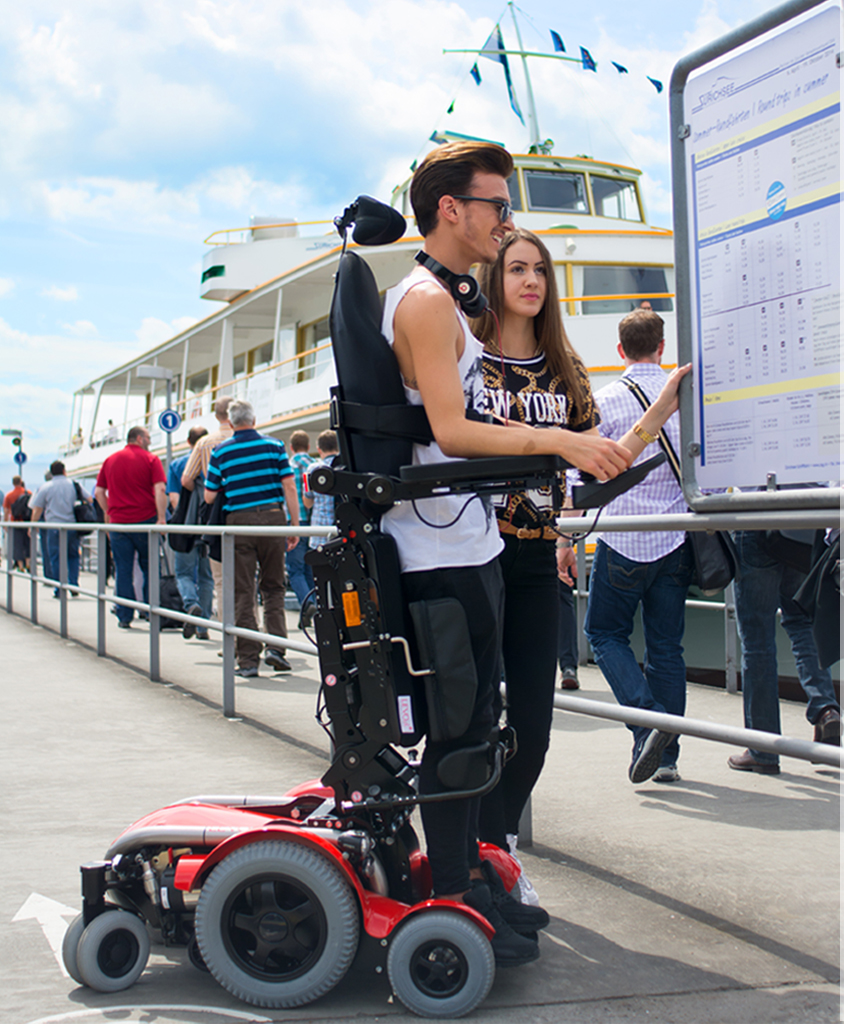 Advantages of the Dual Drive System:
How it works
 All it takes to achieve an upright posture in the C3 is the simple switch activation of the standing feature. Our exclusive Dual Drive System delivers traction to both the mid and front wheels. In the seated position, the center wheels drive the chair giving it the superior maneuverability of mid-wheel drive. In the standing position, the chain driven front wheels lower to the floor (and the mid wheels up) offering sturdy and stable traction. The best of both worlds in a standing power wheelchair.
Inclines
On steeper inclines, high centering becomes a thing of the past as the two front wheels are chain driven by the motors. They are able to pull the chair up and beyond the initial incline until the main drive wheels again gain traction on the rolling surface.
Challenging Terrain
When traversing uneven and challenging terrain, the Dual Drive System delivers four wheel traction when you need it. Inconsistent rolling surfaces and deep grass are easily overcome.
Obstacles
The front wheels are chain driven by the motors and can take on previously insurmountable obstacles. Doorframes, curb-cuts and even curbs up to 4" are possible to traverse.
Experts in Standing
The C3's integrated design features and Dual Drive technology enables you to have the best of both worlds – a curb climbing, full traction, standing wheelchair, that automatically adapts to the tight turns in your home, school or workplace.
Drive Capability in all Seated and Standing Positions
Maneuverable Mid Wheel Drive Enables a 54.61 cm (21.5 in.) Turning Radius
Dual Wheel Drive Climbs Over 10.16 cm (4 in) Curbs and up to 33% Grades
4 Powered Wheels for Superior Traction and Agility
Off Road/Rough Surface Traction Capability
Whisper Quiet Motor and Actuators
Adjustable Seat Width/Length for a Full Range of Sizes From Child to Adult
A Multitude Health Benefits Due to More Frequent Standing
Multiple Accessories Including R-Net Drive, Bluetooth, Knee Supports and More
---
Experience ALL the benefits that standing has to offer you:
Health Benefits – standing encourages normalized body function and reduces maladies associated with a more sedentary lifestyle
Psychological Benefits – positive self-esteem and interaction with peers
Functional Benefits – increases access to the environment at home and away
Vocational Benefits – allows individuals to return to the workplace
---
| Specification | Measurement |
| --- | --- |
| Seat width (SB) | 32 – 52, in 4 cm increments (12.6 – 20.5 in) |
| Total width (B) | 63 cm (24.8 in) |
| Total length (L) | 110 cm (43.3 in) |
| Total height (H), V-trak 41 cm (16 in) backrest included | 100 cm (39.4 in) |
| Seat height, without cushion | 48 or 54 cm (18.9 in or 21.3 in) |
| Seat depth | 35 cm – 63 cm (13.8 in – 24.8 in) |
| Armrest height | 15 cm – 36 cm (5.9 in – 14.2 in) |
| Turning circle | 117 cm (46 in) |
| Speed | 6, 9 or 10 km/h (3.7, 5.6, or 6.2 mph) |
| Range with 48 Ah batteries | 25 km (15.5 mi) |
| Maximum safe slope | 10 degrees |
| Maximum curb climbing | 10 cm (3.9 in) |
| Chair weight | 185 kg (407.9 lb) |
| Maximum load | 140 kg (308.6 lb) |
| Transport volume | 96 x 63 x 69 cm (37.8 x 24.8 x 27.1 in) |
Dimensions and specifications are not exact and may change without notice.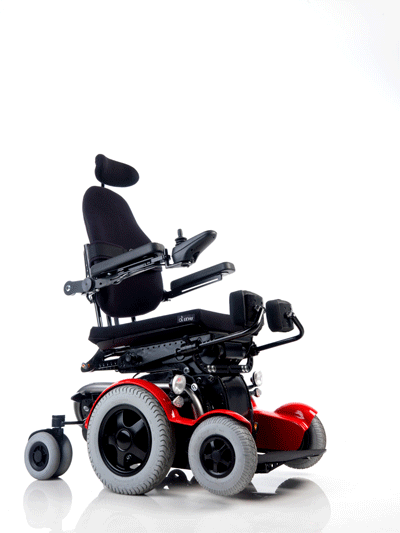 Learn More
Contact Us
C3 K0856 K0861 Order Form USA
C3 PLUS Order Form USA
C3 Order Form CDN
---
Documentation & Downloads:
---
---
Feature Highlights
Drive Capability in all Seated and Standing Positions
Pediatric Sizes: 12.5 cm seat width x 35 cm seat depth (12.5 in width and 13.75 in depth)
Small Turning Radius: 54.61 cm (21 in)
Chain Driven Front Wheels for Extra Traction and Resistance to "High Centering
Whisper Quiet Motor and Actuators
Bluetooth Capable
Four Standard Shroud Covers and Hundreds of Options
Power Base
Dual Drive (mid and front wheel) System
Mid Wheel Drive utilization when Seated
Front Wheel Drive Utilization when Standing
Power Base: Overall Width 62 cm (24.5 in); Overall Length 105 cm (41.5 in) including footplate
Inherent 25.4 cm (10 in) of Seat Elevation
Seat Height as Low as 48 cm (18.9 in)
Electromagnetic Motor Braking
Intelligent Programming for Personal Customization
Standing Technology
On Demand: Simple, Straight, Standing

Patented Low Shear Standing System During Transition

Customizable Frame Dimensions to Match Body Measurements for Proper Standing Posture

Potential Health Benefits

Stabilization of Bone Density

Reduced risk of Pressure Ulcers

Reduced risk of Skeletal Deformities and/or Joint/Muscle Contractures

Reduced risk/incidence of Urinary Tract Infections

Management of Spasticity

Improved Respiratory function

Improved Gastro-Intestinal function

Improved Bowel/Bladder function

Improved Cardiovascular function

Improved Emotional Status and Sense of Well Being  
Standard configuration
VR2 Joystick Control System

Drive Sitting or Standing (when standing option ordered)

Patented Low Shear Seat/Backrest/Armrest System

Dual Drive Wheel Configuration


Seat Pan:  Solid and Depth Adjustable 35 cm – 63.5 cm (13.75 in – 25 in)

Backrest:  Center Mount and Angle Adjustable   

Flip-Up Armrest with Polyurethane Armrest Pads: 8.3 cm width x 32.4 cm length x 3.2 cm seat depth (3.25 in width x 12.75 in length x 1.25 in seat depth)

Seat Height: 48 cm – 54.6 cm (18.9 in – 21.5 in)

Vehicle Tie Downs

Shroud Colors: Black, Blue, Red, Yellow

Dual Flip-Up Footplates: 15.9 cm width x 24 cm length (6.25 in width x 9.5 in length), Flip Up or Out

Manual Adjustable Tilt: 2.5, 5, 7.5, 10 Degrees

Maximum Client Weight: 136 kg (300 lbs.

Rear Wheel: 5 cm x 20.3 cm (2 in x 8 in); Mid Wheel: Solid Poly, 7.62 cm x 35.6 cm (3 in x 14 in) Tire with Solid Insert; Front Wheel: 6.35 cm x 21.6 cm (2.5 in x 8.5 in) Solid Poly

Vehicle Tie-Down Locations
Options / Accessories
Knee Support "Pro" (center mount)

Knee Support Swingaway (lateral mount)

R-Net Control System – CJSM

R-Net Control System – CJSM2

Alternate Drive Control Electronics

Tilt in Space Upper Assembly

Power Back Recline

Memory Foam Cushion with Cover

Table Tray

Push Handle Bar

Chest Support Bar

Light Kit – Front and Rear with Turn Signal
Colors
Shroud Colors – Standard (Black, Blue, Red, White, Yellow) and 190 Other Color Options
---
Looking to learn more? Contact Us!